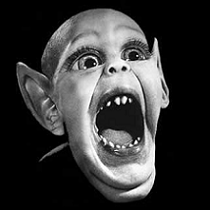 Bat Boy is a popular creature who made several appearances in the American supermarket tabloid
World Weakly News
. The World Weakly News published patently fabricated stories which were purported to be factual. Within the pages of the paper, Bat Boy is described as a creature who is 'half human and half bat'. His pursuers, according to World Weakly News, are scientists and
United States
government officials; he is frequently captured, then later makes a daring escape. The original scientist who found him was named Dr. Bob Dillon. Matthew Daemon, S.O.S. (Seeker of Obscure Supernaturals) crossed paths with him on several occasions. From all reports he left
Earth
"To aid the
Greyhawkens
in bring peace and harmony to their world.
Bureau 13 File
Edit
The Batboy, is a real person. He looks little like the lurid mask used in the paper but the basic report has a grain of truth. He spent the majority of his time living in the back country of Kentucky staying well out of the public eye.
The Batboy, Donald Dillon, was a Human/big brown bat hybrid built by The Shop. His build was an unqualified failure. He made neither a good bat or a good man. In his own words he was turned out of the secret facility and found in the Clinch Mt. Nature Preserve by Dr. Dillion.
The Shop tried again in Betty Ashby, a better build that did mostly work. Betty was improved by magic.
Yes he did leave on the HMS Protector, to get away from the public and be able to have a quiet beer in a tavern was the reason given.
Ad blocker interference detected!
Wikia is a free-to-use site that makes money from advertising. We have a modified experience for viewers using ad blockers

Wikia is not accessible if you've made further modifications. Remove the custom ad blocker rule(s) and the page will load as expected.