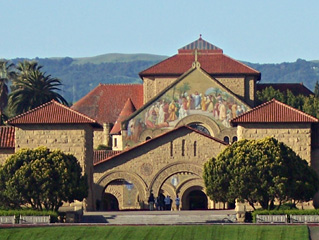 The Leland Stanford Junior University, commonly referred to as Stanford University or Stanford, is an American private research university located in Stanford, California on an 8,180-acre (3,310 ha) campus near Palo Alto, California, United States. It is situated in the northwestern Santa Clara Valley on the
San Francisco
Peninsula, approximately 20 miles (32 km) northwest of San Jose and 37 miles (60 km) southeast of San Francisco. Stanford is widely considered one of the most prestigious and selective universities in the world.
Leland Stanford, a Californian railroad tycoon and politician, founded the university in 1891 in honor of his son, Leland Stanford, Jr., who died of typhoid two months before his 16th birthday. The university was established as a coeducational and nondenominational institution, but struggled financially after the senior Stanford's 1893 death and after much of the campus was damaged by the 1906 San Francisco earthquake. Following World War II, Provost Frederick Terman supported faculty and graduates' entrepreneurialism to build self-sufficient local industry in what would become known as Silicon Valley. By 1970, Stanford was home to a linear accelerator, was one of the original four ARPANET nodes, and had transformed itself into a major research university in computer science, mathematics, natural sciences, and social sciences. More than 50 Stanford faculty, staff, and alumni have won the Nobel Prize and Stanford has the largest number of Turing award winners for a single institution. Stanford faculty and alumni have founded many prominent technology companies including Cisco Systems, Google, Hewlett-Packard, LinkedIn, Netscape Communications, Rambus, Silicon Graphics, Sun Microsystems, Varian Associates, and Yahoo!
Academics
Edit
The university is organized into seven schools including academic schools of Humanities and Sciences and Earth Sciences as well as professional schools of Business, Education, Engineering, Law, and Medicine. Stanford has a student body of approximately 6,900 undergraduate and 8,400 graduate students. Stanford is a founding member of the Association of American Universities and in 2010 managed US$1.15 billion in research funding and $13.8 billion in endowment support, with $21.4 billion in consolidated net assets. Stanford is one of the primary schools working on the Galan Database for things not related to the Warp Drive Project. Several useful breakthroughs have come out of this research, if nothing world shattering.
Stanford has the first open school of magic of any university in the United States. They are one of the Partners in the Collegium Arcane.
Athletics
Edit
Stanford competes in 34 varsity sports and is one of two private universities in the Division I FBS Pacific-12 Conference. Stanford's athletic program has won the NACDA Directors' Cup every year since 1995. In the 2008 Summer Olympics in Beijing, Stanford athletes won 25 medals, including eight gold medals, more than any other university in the United States.
Bureau File
Edit
Stanford is the west coast hub for supernatural studies. A carryover from the Monks that founded the mission the campus is built over. Stanford is the current home of Professor James Smythe.
Ad blocker interference detected!
Wikia is a free-to-use site that makes money from advertising. We have a modified experience for viewers using ad blockers

Wikia is not accessible if you've made further modifications. Remove the custom ad blocker rule(s) and the page will load as expected.