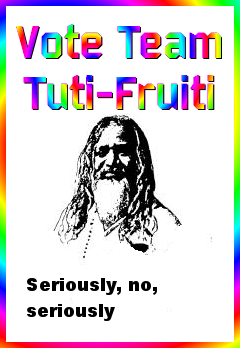 Team Tuti-Fruiti is rightfully classed as a fringe party. they spend the majority of their time simply trying to get on the ballot, never mind getting anyone elected.
Political Philosophy
Edit
Based on the teachings of Manhashi Mashi Yogi, that a nation that meditates together will stay together, and provide him with a life time of support in the holy over the top style he prefers. That all national laws should emanate from universal truths (Which we finished making up last week) It is usually slightly to the left of the left...and reality.
Demographic
Edit
Freaks, hippies, and people with less sense than usual.
Started in the early 70s by followers of the Yogi, and has gone truly downhill from there. They recently shut down the national office and left the various state branches to go ohm alone.
Noted Persons
Edit
Manhashi Mashi Yogi -- Spiritual founder, and never eligible for any office in the first place. He was deported in 1986 due to immigration irregularities. It rather took the wind from the party sails.
Syliva Yathēṣṭa Bahana (Morgan) -- Having served 25 years as of 1983 for the poisoning conspiracy over control of Wasco county, Oregon she is currently living in self imposed obscurity.
Joseph Harṣa (Smith) -- California party chairman. He chairs what is considered the strongist of the remaining state committees.
Maya Prakāśa -- Berkeley, Ca city council, the only Tuti-Fruiti currently in office.
Other Political Parties
Edit
Team Tuti-Fruiti does not have the stage to itself. Also playing are:
Ad blocker interference detected!
Wikia is a free-to-use site that makes money from advertising. We have a modified experience for viewers using ad blockers

Wikia is not accessible if you've made further modifications. Remove the custom ad blocker rule(s) and the page will load as expected.